Rutgers national champ Ashnault instructs at Newton camp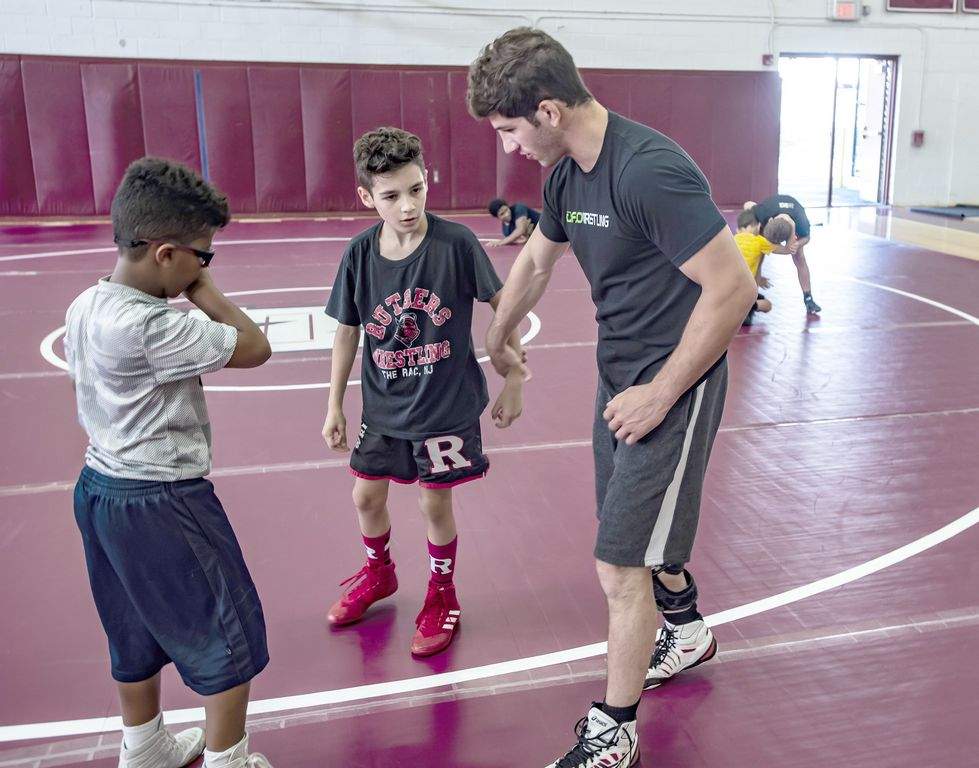 By Matt Bove of the New Jersey Herald
Posted: Jul. 17, 2019 12:01 am
NEWTON -- As great a wrestler as Anthony Ashnault is, he is just as big a fan of the sport when he isn't on the mat.
Many of the greatest athletes prefer to distance themselves from their sport when not competing, but Ashnault cannot get enough of it. That's why you see him driving up to Newton High School on a Tuesday morning to help out at its wrestling camp.
Ashnault, who capped off his Rutgers career with a 149-pound national championship in March, was the main instructor at the Newton Summer Wrestling Camp on Tuesday along with Rutgers teammate and Andover resident Joe Grello. Winning the national championship has afforded him a lot of opportunities like this, which he is taking full advantage of.
"I love working with the kids, Ashnault said. "I live about an hour south of here, so it wasn't hard to come up in the morning and give some of my time back. I was in the position of these kids at 5 years old all the way up to high school doing camps. It's what made me the person that I am now and the wrestler that I am now.
"In general, it's been surreal. I've been getting a lot of opportunities to work with kids at camps, not even just in New Jersey. Later today, I'm leaving to do one in California. It's really all over the country. It's a lot of support. This is as close to a professional athlete as a wrestler will ever get to, so that's really cool. Being a professional athlete is something I always wanted to do as a kid. I thought I would be a professional football or baseball player, but it's sweet. I love this sport and what I do."
"He's a great technician and a really accomplished wrestler," Newton head coach Eric Bollette said. "We're happy to have him at our camp. We've been fortunate to have a couple of national champs. He's had a great career. The kids now with social media all know who he is. It's great for the sport. In other sports, you don't see these type of celebrity athletes coming to local camps. It's really tremendous."
With about 22 kids in attendance, Ashnault would demonstrate moves along with Grello before they would go and practice them, as Ashnault, Grello, Bollette and Kittatinny head coach John Gill would walk around critiquing. Ashanult was showing them his signature ankle pick along with a lot of things like controlling ties and tilts. Before he left, Ashnault signed autographs and took pictures.
"In wrestling, we call that our bread and butter because you have it every day, so what's your bread and butter in wrestling?" Ashnault said. "What do you go to? The key is keeping it light and fun, but at the same time having the conversations with them so they know it's serious and it's hard work, which is a hard balance. Some of the kids' attention spans aren't very long. After five minutes they're zoning out, so you have to have creative ways to keep their attention. The more I do things like this the better I get at it, but I'm still learning."
This was not Ashnault's first time visiting Newton High School, as South Plainfield has been a fixture at the Henry Boresch Duals in recent years. Ashnault went a perfect 170-0 in his career at South Plainfield and became the first undefeated four-time state champion in New Jersey history. As a big fan of the sport, Ashnault really appreciates the history of Newton wrestling.
"It's awesome man," Ashnault said. "I was just upstairs in the wrestling room looking at the wall. It's really cool. I was listening to Coach Gill talk about how it just used to be Kittatinny and Newton wrestling for this high school. I love wrestling, so it's cool to hear those kinds of things. I love the history, and I'm still a big fan of the sport even though I'm still competing in it. I love watching everyone else. I like following the high school teams and little kids that I meet."
Ashanult finished his Rutgers career as its all-time wins leader (123-18), a four-time All-American and a three-time Big 10 champion. He hopes to leave a legacy that will pave the way not just for Rutgers to have more individual national champions, but to eventually get a team national championship.
Once Ashnault committed to staying at home and wrestling at Rutgers, many more top Garden State grapplers have followed. Nick Suriano, who won the NCAA 133-pound national championship this past year as well alongside his teammate, transferred from Penn State to Rutgers.
Pope John's JoJo Aragona, the No. 1 recruit in the country at 138 pounds, became Rutgers' first top-rated recruit it has signed in program history. Also, Sammy Alvarez of St. Joseph (Mont.) just changed his commitment from N.C. State to Rutgers this week. Alvarez won the state championship at 126 pounds and is rated as the No. 3 recruit at his weight class nationally.
"I would say that was my first goal when I came to Rutgers," Ashnault said. "There were people before me, but I would like to say that I came in there and then Nick Suriano transferred after he saw that I went there and all these guys started coming. In reality, it was a team effort. Coach (Scott) Goodale and Coach (John) Leonardis started the very long process. It wasn't one person, two people or five people, but it was hundreds of people. It was a lot of support.
"It's awesome to see guys like Sammy Alvarez now coming back home and all these guys wanting to stay home. We want to eventually be national champions as a team, and that's what it's going to take. It's going to take monumental recruiting."