Anthony Ashnault's six-year impact on Rutgers wrestling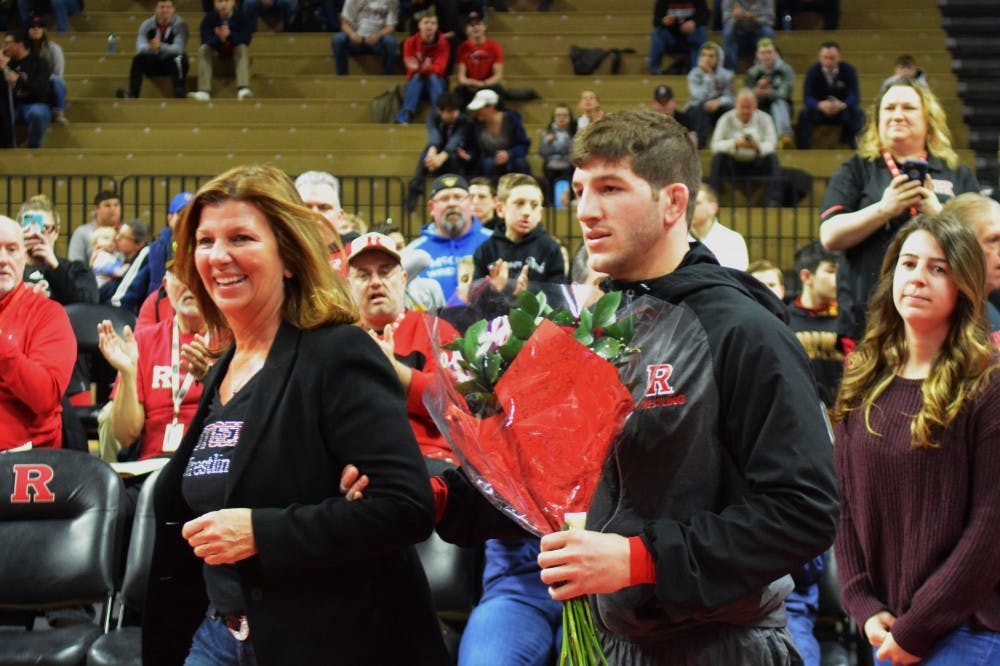 When it's all said and done, No. 1 graduate student 149-pounder Anthony Ashnault will be the most decorated wrestler in Rutgers wrestling team's history.
He is just four wins away from becoming the all-time winningest wrestler in the No. 18 Scarlet Knights' (11-6, 4-4) program history. With one more dual meet to go on Friday against Maryland and two postseason tournaments remaining, there are plenty of matches left to accomplish the feat.
Of course, the cherry on top of Ashnault's career would be capturing his first-ever national championship in March, and becoming the first-ever Rutgers wrestler to do so. Ashnault has beaten Princeton's No. 2 Matthew Kolodzik and Ohio State's No. 3 Micah Jordan earlier this year.
By coming to the Banks, Ashnault has paved the way for other top New Jersey recruits to stay home and wrestle for the Knights like when highly touted recruit No. 4 junior 133-pounder Nick Suriano transferred from powerhouse Penn State after his freshman season.
More recently, Rutgers landed the No. 1 high school recruit at the 138-pound weight class, New Jersey native JoJo Aragona out of Pope John. This is the "Ashnault effect."
"(Ashnault) committed here when we were very average," said head coach Scott Goodale. "He looked me in my eyes on his official visit and wanted things a certain way and we agreed on it. I don't think we're all the way where we want to be, but man, we're getting closer and closer and it's because of him."
Much can also be said about how Goodale turned the program around since taking over in 2007. Now in his 12th season as the Knights' head coach, Goodale has rattled off 12 straight winning seasons, including five in the premier wrestling conference in the country, the Big Ten.
Since Ashnault arrived at Rutgers, attendance at the Rutgers Athletic Center (RAC) for wrestling matches has nearly doubled. That's the Ashnault effect, and it is part of the reason why the Knights averaged 5,000 fans per home match this season.
To put that into perspective, Rutgers was fourth in average attendance last season in all of NCAA Division I wrestling with 4,680 fans per match, only behind the Nittany Lions, Iowa and the Buckeyes.
"He's really put this place on the map," Goodale said after Sunday's match against Michigan. "Not from a wrestling standpoint, from an athletic department standpoint. He's meant a lot to this University. I love the way our crowd appreciated that."
The appreciation of the Knights' fans toward Ashnault has been on display at every home match. Against the Wolverines for senior day, Ashnault received a standing ovation from the RAC crowd after defeating Malik Amine of Michigan 16-4.
Ashnault has never lost inside of the RAC in all of his 131 career matches. The only home loss he ever received was when he lost to Kolodzik when Rutgers wrestled the Tigers outside at HighPoint.com Stadium.
"The RAC is home to me, competing here," Ashnault said. "I feel like when I'm out here I hear the crowd, I feed off the energy. I feel my opponent start to tense up as the crowd gets louder and louder, and then I feel like a tiger striking on my prey, and that's all because of the crowd's energy."
Of course, the journey for Ashnault is not yet over. After the final dual meet on Friday against the Terrapins, the Big Ten Tournament and the NCAA Tournament remain on the schedule.
In the postseason, Ashnault will look to top his career off with his third Big Ten Championship and his first-ever NCAA crown, becoming the first Knight ever to do so.
"We're really really close to doing some special things here," Goodale said. "I'm talking some high-level stuff. There's an opportunity for this program to win a trophy at the national tournament one day, and it's because of what he's done, and what he's meant to the program."
---
For updates on the Rutgers wrestling team, follow @TargumSports on Twitter.